Chain-Mild Steel Products
Lifting chains are an integral part of any heavy lifting rig and are used in a multitude of different industries. These hoist chains are used for winches, hoist and the general handling of materials. Rigging slings and lashings can also effectively make use of lifting chains.
Positioning and lifting of large and heavy loads is a much easier task with a good quality lifting chain. Industries like the automotive, printing, chemical, steel, paper, warehousing and distribution industries are some of the most prolific users of our hoisting chains.
All of our lifting chains go through stringent quality checks and are made from the finest materials to make sure they do their job and keep doing their job for a long time without breaking.
Below are some of the hoisting chains that we can provide to you:
SHORT LINK GR5 CHAIN
Grade 5 Short Link Chain is specially hardened and tempered to achieve higher working load limits and increased wearing properties.
Identification:
Embossed 5 on at least every 20th link or 1 metre, whichever is the lesser distance.
Short Link Chain is a special steel chain developed to those rugged applications demanding high resistance to both abrasion and shock loads.
SUPER 6 SHORT LINK CHAIN
Short Link Chain is ideally suited for Cane and Timber Bundling Chains and Load Lashing on vehicles.
Identification:
Embossed SUPER 6 on at least every 20th link or 1 metre, whichever is the lesser distance.
GRADE 95 SHORT LINK CHAIN
GRADE 95 MID LINK CHAIN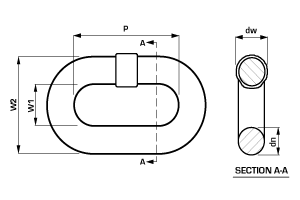 GRADE 90 SPECIAL LONG LINK CHAIN
Gr3 LONG LINK CHAIN
Long Link is a general purpose mild steel chain
Gr3 EXTRA LONG LINK CHAIN
ELL Chain was primarily developed for use in underground mining but now offers greater versatility due to its "passing-through" design allowing immediate, on site, coupling and repair.
Identification:
No brand marking
LOAD CHAIN
For Manually operated Chain Hoists
COAL CONVEYOR CHAIN
A lifting type steel chain
HARDWARE & MERCHANDISER CHAIN
A general purpose steel chain
• Chain Markings-None
• Available in 30m lengths
• Zinc electroplated with clear passivation
• Supplied in measured 30m lengths
Please click on the below link for a full specifications sheet on our lifting chains